Owner: Brittney Hickey, California Age:16
Vehicle: '69 Camaro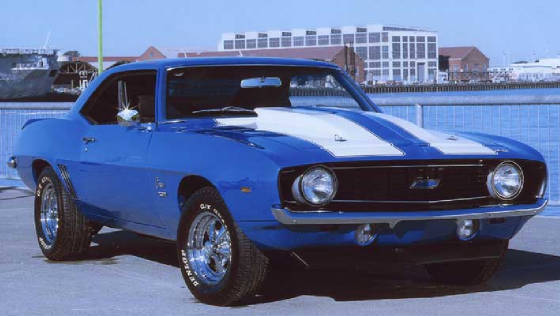 Brittney found this car through a friend of a friend. Her dad bought if for her for a valentine's gift at the age of 14, in the year of 2000. After a frame off restoration with all new wiring, steering, suspension, shocks, bearings, and front disc brakes the car was drivable. At the time there was a Muncie 4 speed, in the car with a 3:55 posi rear end. When you were in fourth gear, the engine just kept increasing the R.P.M's, which was not good. It was decided that the car needed more gears. After weeks of researching, I found Bob Weir's add in Drive magazine talking about conversion kits to install into cars. At the time Bob was looking for a prototype either a 67,68,or 69 Camaro, it just happened I had the 69. We worked it out where Bob would have the car and would do the conversion kit in order to go from the Muncie 4 speed, to a 6spd. The car was dropped off to Bob in August of 2001 and was returned to us in September 2001. Where it then proceeded to go on to the paint and body shop, as they had yet to be completed, when it was done being painted, the interior of the car was completed. Our goal was to have this car done and completed by Brittney's 16th birthday so that she could drive it. Since the car turned out so well, it has been put into shows. The car was voted 2nd place Peoples Choice Award at the California State Fair in August of 2002. The Camaro has appeared in 8 shows total. It has been shown at the Hot Antioch nights, Napa Vintage, Vallejo Lions, Vallejo Whale boat Regatta, Livermore, and Good Guys Show. Brittney keeps her 69 Camaro as her fun car to drive on nice days in order to help preserve it. In order to do this she went and bought her own car which is a 2002 Monte Carlo SS. There are not too many 16 year olds that have a classic muscle car and a newer car, but she does and takes care and helps to work on both. Thanks to Bob Weir the 69 is not only a dream to drive, but is fast and gets great gas mileage. This car drives at 75 to 80 under 2000 rpm all day.
Owner: Brent Jackson, Thousand Oaks, CA
Vehicle: '69 Camaro

Brent planned on spending some serious time behind the wheel, so the interior needed to be both functional and visually pleasing. Mission accomplished. Brent entrusted Mike Ambrose in Northridge, Ca, with the responsibility of stitching the black leather over the stock rear seat, the Jamex buckets, and the custom-made door panels and center console. Black Mercedes carpet covers the floor. The dash has been filled with Auto Meter Ultra-lite gauges, and a Momo wheel tops a rebuilt tilt column. Spal power windows and a bi-amp audio system controlled by an Eclipse AM/FM/CD head unit provide some creature comforts.

| | |
| --- | --- |
| Not much room for luggage thanks to the polished fuel cell and two JL Audio amps. The upholstered panels hide some more audio equipment and the relocated battery. | Painter extraordinaire Jason Pecikonis masked off more than 1,400 individual squares to make up the subtle, checkered stripes and then buried them in several coats of clear. |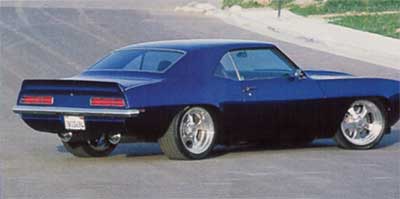 This thing sits right! No air bags, just a well-tuned suspension and some huge rubber. The Thermal 3-inch stainless steel mufflers, which are more commonly found under wannabe Hondas, tuck neatly behind the bumper and provide a unique exhaust note for the big-block.
VITALS
Owner
Brent Jackson, Thousand Oaks, CA
Vehicle
'69 Camaro RS
Engine
'70 488-cid V-8 (4.280 bore x 4.250 stroke)
Transmission
'95 Viper T-56 six-speed mated with a Weir Hot Rod Products bellhousing
Suspension
Front
SED 1 ½-inch dropped spindles, stock control arms with Global West Del-A-Lum bushings, Hal Pro Coil adjustable coilovers, Baer 13-inch disc brakes
Rear
Narrowed 4.11:1-geared 12-bolt, 2-inch mini-tub with relocated Landrum leaf springs with Global West Del-A-Lum bushings, Hal adjustable shocks, Baer 12-inch disc brakes.
Wheels
Budnik Famosa (18x9 with 5-inch backspacing and 18x11 with 6-inch backspacing)
Tires
Michelin Pilot Sport (265/35ZR18 and 335/30ZR18)



Weir Hot Rod Products
Order Line (800) 633 9869 Tech Line (707) 647 0513
Fax (707) 642 4446