Don't want to tear up your trans tunnel too much, but feel the six speed action is a bare necessity of life? Call Bob Weir (please, no Grateful Dead jokes). Located in American Canyon, a wide spot in the roadcum-bedroom community between Vallejo and Napa, California, Bob and his son Spence have a shop space that's packed to the gills with machining equipment, where they spend the day listening to dyno pulls from the engine shop next door and come up with cool products that seemingly don't have much to do with each other - a bulletproof main cap here, a chromoly I-beam axle there, a dwarf car rear end over yonder and a water pump for Chevy small blocks in '30s hot rods parked next to that.
Basically, Bob or Spence comes up with an idea and then sets to making it a reality. Possibly the trickest tricks Bob's come up with, however, are his kits to drop '93-02 Camaro / Firebird T-56s behind practically any GM eight-pot mill from the last 40 years. Essentially, all you do is call Weir Hot Rod Products, let Bob know whether you scavenged the transmission from an LT1 or LS1 car, and he'll send you out the kit. They' re all machined in-house on his CNC mill and lathe, including a brand-new cast aluminum bellhousing. Weir's taken great pains to make his kits as universal as he can, creating workarounds to problems like the LS1's bellhousing bolting to the oil pan. He also crafted a hydraulic clutch-release bearing for the LT1 oriented transmission, converting the pull clutch to a more conventional push design. Apparently, the pull clutch was necessary on the 6-speed ZF transmission used on the Corvettes, and as such, was carried over to the T-56, presumably due to economies of scale. Weir also manufactures a transmission crossmember for an easy swap into first-gen Camaros, requiring only minor cuts in the transmission tunnel and shortening of the driveshaft.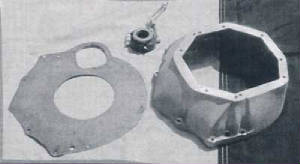 Similar to the LS1 conversion kit, this set from Weir allows you to pull a manual trans from an LT1 Camaro or Firebird. Note the custom-fabricated release bearing that Bob and Spence Weir machine in-house on their CNC lathe.

Weir's also experimenting a bit with similar kits to make Viper trannies live, behind Mopar's early Hemis, B and RB big blocks, A and LA small blocks and 426 and 528 Hemis. So far, most Mopar guys have either been into straight-line action or 100-point restos, leaving the Pro Touring segment to Ford and Chevy fans. This, my friends, is a mistake. I've been saying this for a while now, and it's only gonna get more true before it gets false-Chrysler A-Bodies are the Next Big Thing. They're relatively cheap, you can make 'em go fast and handle well, and they'll accept anything from a 170 Slant 6 to a Hemi. Plus, 340s are known to eat other small blocks with similar specs (and more displacement) for breakfast, lunch, dinner and a little mid-evening snack. Most importantly, there were a lot of 'em made prior to the Attack of the Smog Police. So here's what you do: forget the E-bodies. They're too expensive, and. after the Nash Bridges thing, they've got that patina of Don Johnson-ness that we could all do without (okay, so that's just sour grapes talking, but work with me here). B-bodies are nice, but they're getting up there, too (plus, John Schneider turned out to be really oddly right-wing, and here in the Bay Area, a confederate flag on your roof is liable to get your nice orange paint job keyed). Find yourself a nice little Dart, build yourself the Chrysler mill of your choice, and then call Weir and beg, plead, cry, and/or mail him pictures of sad little puppies with hundred dollar bills attached until he decides that this Mopar kit's something that needs to be put into production.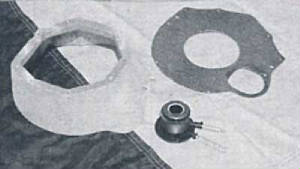 Weir Hot Rod Product's custom bellhousing kit allows you to hook an T 56 from an LS1 F-body to a first generation Chevy smallblock.
All heart-wrenching Mopar-oriented uncertainty aside, Weir's just about to launch a kit that's near and dear to my heart, and will finally (hopefully) stop the legions of people who yank perfectly good Buick, Olds and Pontiac motors from their rightful homes and replace them with Chevrolets. Now don't get me wrong-despite my contrarian nature, there's a familiarity to the Mouse and Rat that give me a warm, fuzzy feeling. But geez, friends, why do we need to remove a perfectly good Buick 455, Poncho 400 or Rocket 350, only to replace it with what everyone else has? Why didn't we just buy a Chevelle in. the first place? Admittedly, in the past, it had to do with the lack of newer technology for these motors; Now, however, aluminum heads are available for every B.O.P. motor worth its salt, and advances in aftermarket EFI systems are bringing fuel injection to motors that otherwise were phased out while the OEMs were still using carburetors. And now Weir has introduced a kit to hook a T-56 up to Buford, Poncho or the Spawn of Ransom E. In short, if you bought a Buick, Oldsmobile or Pontiac to be different, you have Weir Hot Rod Products to thank for making your weirdness that much easier to live with. If, on the other hand, this opening of the B.O.P. floodgates to every Tom, Dick and Harry makes you mad, you might want to look into installing the transaxle from a C5 'Vette into a Kaiser.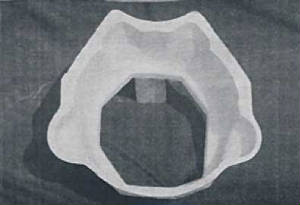 Behold the unmachined aluminum bellhousing from Weir Hot Rod Products' upcoming Buick-Olds-Pontiac T56 conversion kit. Note the dual starter pockets.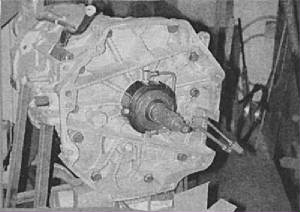 Go gear-crazy with a Borg-Warner T56 six-speed manual. Don't have an LT1? No problem, Weir Hot Rod products has come up with a way to mount the trans behind practically any GM eight-cylinder from the last 40 years.